Our Unicorn Header project has been a 3-year Research & Development journey that can be summed up in two thoughts. First, what works in theory or on other cars (even other Honda's) doesn't work on the S2000. Second, Honda made the best OEM header on the planet, Ferrari & Porsche included. Header swaps on another car typically make 10-20HP per bank of cylinders. Not one aftermarket S2000 header has made more than 5-10HP throughout the entire RPM range till now.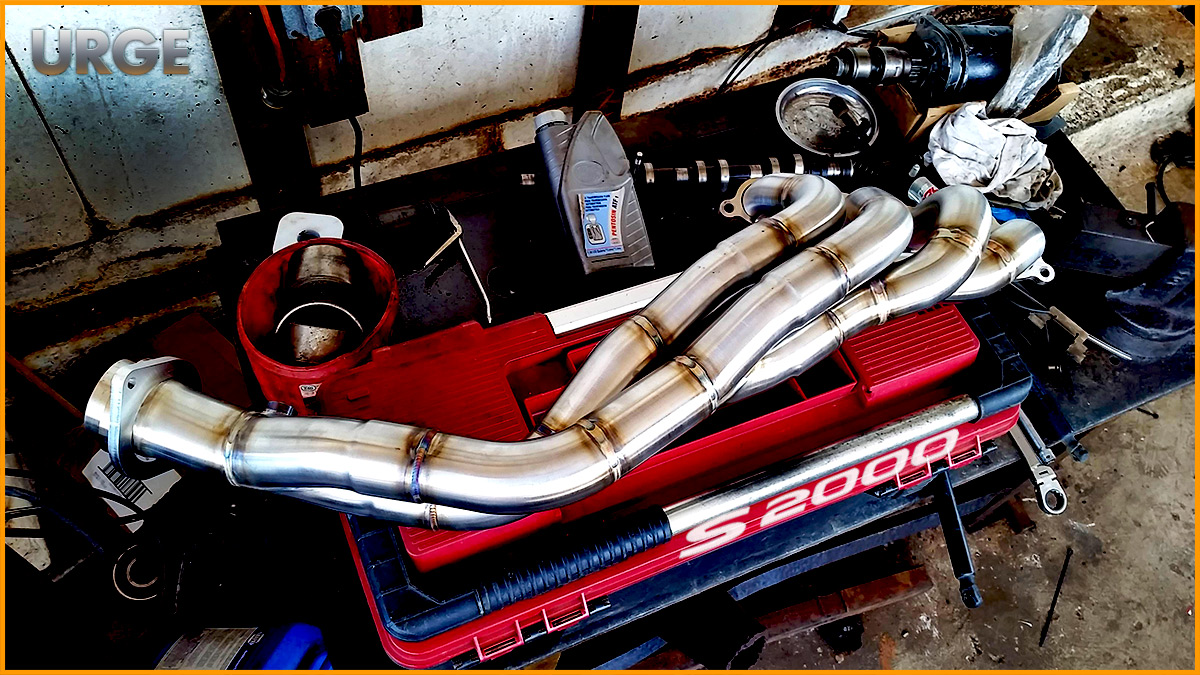 In 2013, we are able to acquire 2 Sequentially Pair Header Tri-Y headers and worked with a successful K-Series Manufacture to build a 4-1 S2000 Header (Unicorn V1). Each sequentially paired header had different primary & secondary dimensions as well as different velocity collectors but made similar broad torque & power curves. Next, we dynoed the Unicorn V1, 4 into 1 header and made 10+ more HP everywhere. We weren't expecting this as 4 into 1 headers typically produce top end power while sacrificing mid range. Finally, we dynoed the OEM header to get a comparison and shockingly, the OEM header made the same as the 4 into 1. Digesting the results it was clear that our built motor didn't like the sequentially paired headers and 4 into 1 didn't provide the top end gains we were expecting.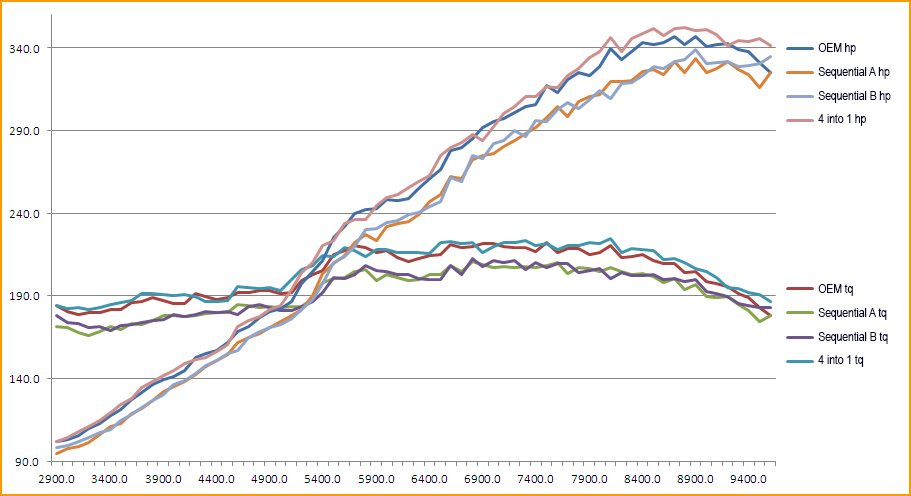 Next, we decided to go back to the tried and true, traditional Tri-Y with evenly spaced primaries. We consulted with a K-Series engine developer that built an adjustable header for the K20 and tested dozens of combinations of Primary & Secondary lengths and diameters. He was kind enough to provide his optimal dimensions and we contacted a high-end header fabricator to build a few Unicorn V2 prototypes. We didn't have access to the engine dyno for a few months so we sent the header out to a few S2KI members. Results varied but we gained ~ 5 HP throughout much of the RPM range vs OEM. At the time, our header costs would have put our sales price around $1750 and we didn't feel the header was worth that cost so we decided not to release the Unicorn V2.
In 2014, while we were conducting Intake Runner R&D on our Sonic ITBs we where thinking about designing a Unicorn V3. But we wanted to study the OEM header to see why traditional theory was not resonating with the S2000 motor. We cut the OEM header in half and measured the dimensions and found something quite odd. At first we thought it was a coincidental design limitation. My mentor quickly corrected me and noted Honda did everything for a reason to make 120 HP/liter topping the next best by 15 HP/liter or >10%. We were testing a similar design pattern during our intake runner testing and decided to move forward with a V3 design. We were able to find a US based header manufacture that was able to make a high quality, 304 Stainless steel header with laser cut flanges and high velocity merge collectors.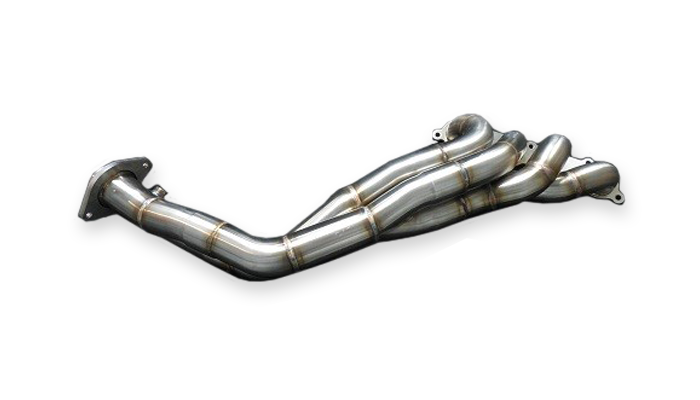 Again, we sourced S2KI members to perform validation testing. We wanted to compare tuned vs tuned dynos as the reason for that most headers make power vs the OEM header is they lean out the AFR of the conservative OEM ECU.   Comparing dynos of 2 parts with different AFR isn't a valid comparison and is the reason why the 3 headers in our first dyno comparison didn't make more power than OEM when they were all tuned equally.
Our first volunteer had a Supercharged engine with a stock bottom and was a unique opportunity to see how the Unicorn V3 performed with high velocity exhaust gases. The Unicorn V3 made 10-20 HP everywhere with an odd resonate spike around 7500 RPM that was repeated on a second run. We cant explain the resonate spike, but the volunteer offered to buy the header as they were pleased with the results as they have yet to find an aftermarket header that outperformed OEM when tuned equally.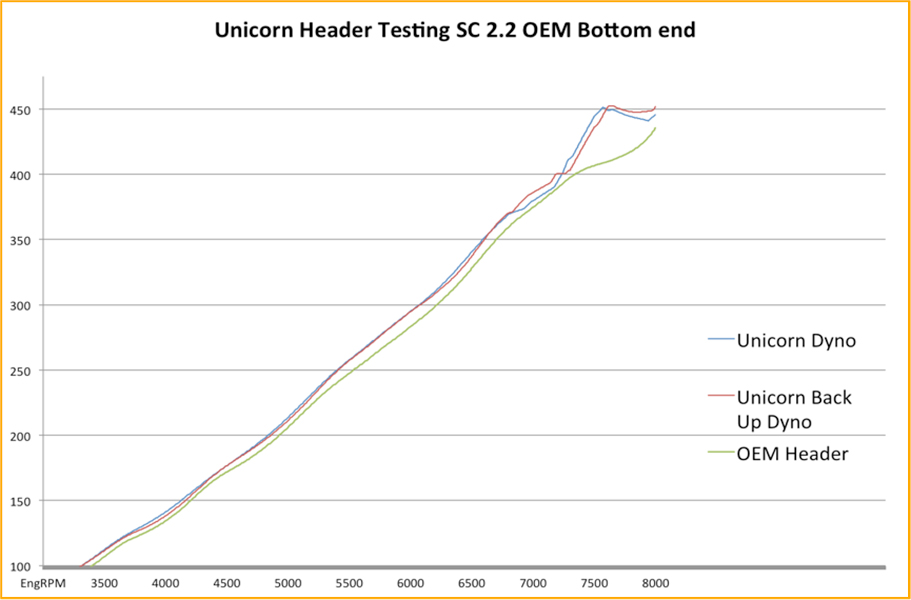 We found a second S2KI volunteer that was willing to perform a controlled tuned vs tuned dyno on an Normally Aspirated 2.2L Stock bottom end. Below is their dyno with 5-12 HP gains everywhere, except during VTEC transition when the headers where equal for an instant. This volunteer also agreed to buy the prototype. A link to their testing and review is below.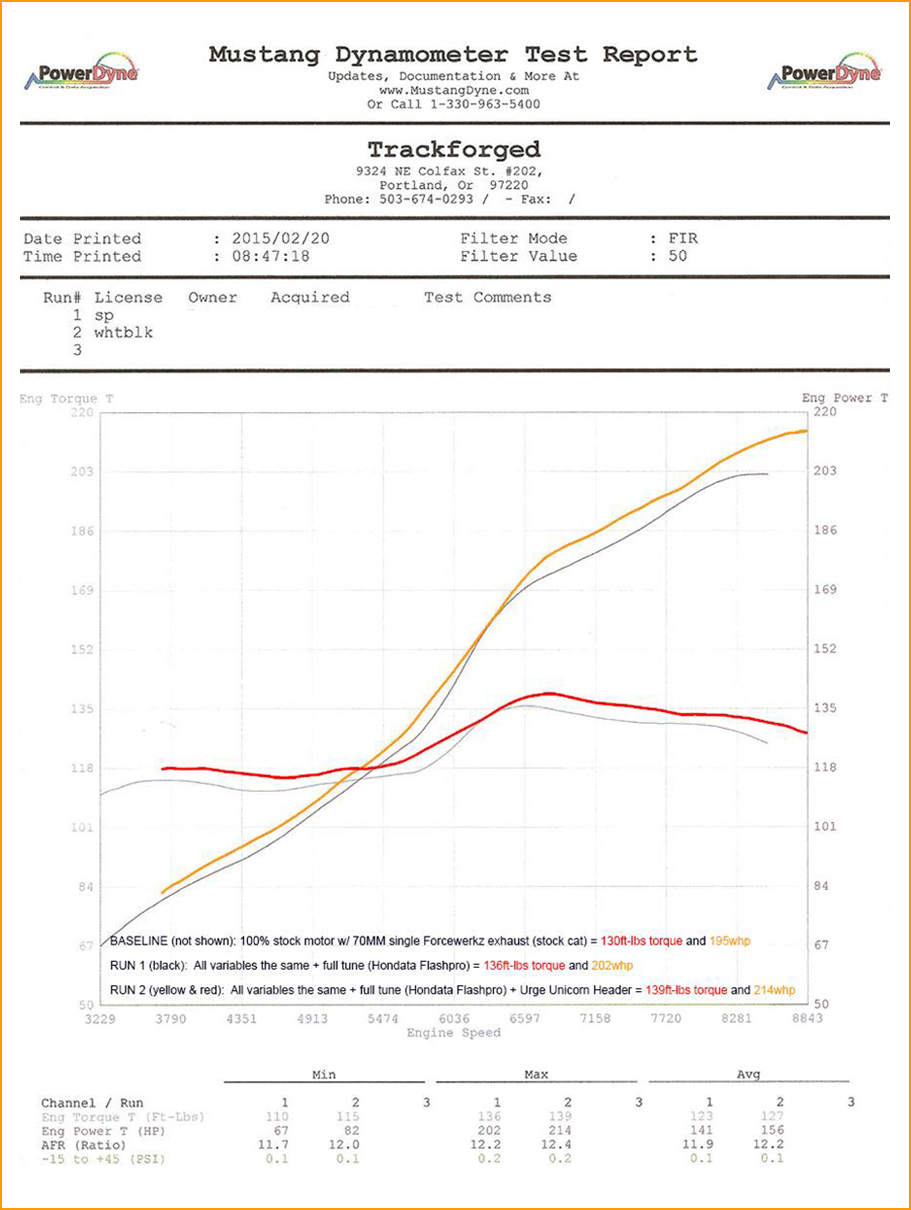 Finally, we had one last test to perform. Our Friend Gernby has never had an aftermarket header perform well with his patented mid-pipe. The Mid-pipe scavenges so well that aftermarket header gains are minimal with most losing power. The Unicorn V3 made consistent gains above 4500 RPM. Between 3500 and 4500 RPM there was a loss in torque that we feel was due to the Gernpipe's extreme midrange scavenging effect that favored smaller diameter primaries during VTEC transition at a low 3600. Once airflow catches up to the VTEC cam at 4500 RPM, the gains are clear.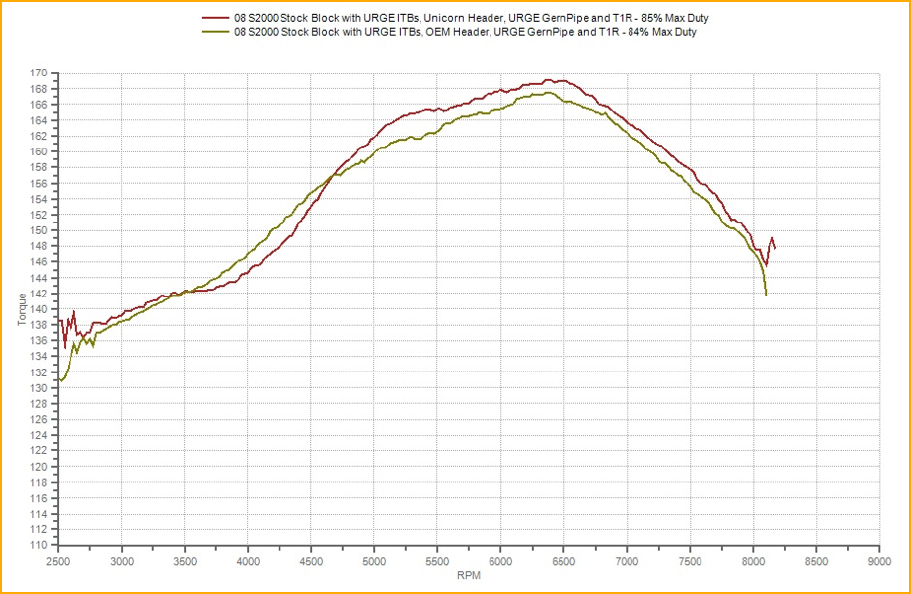 We had another customer send us a dyno of our header vs an aftermarket header and again, we made gains in most places and more importantly, never lost power in any part of the dyno.
Stock Bottom 2.2L Unicorn Header Tuned vs Berk Header Tuned vs Berk Header Untuned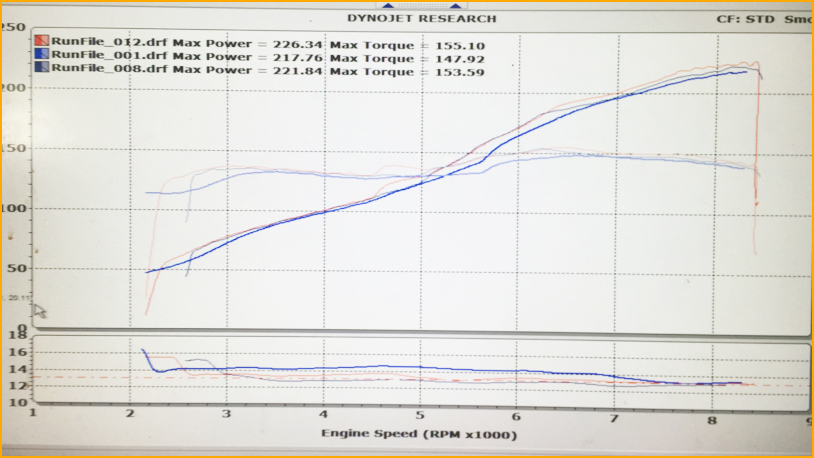 Unicorn Header
$1399
4-2-1 Tri-Y, Wide Torque Band
304 Stainless Steel
Laser Cut Flanges
High Velocity Collectors
Unicorn Stroker
$1450
Designed for 99mm Stroker
Upsized Secondary & Collector Sizing
Same 304SS, Laser Cut Flanges & High Velocity Collectors
Made to Order 4-6 weeks depending on season
Unicorn Superlight
$2250
321 Stainless Steel, 20 Gauge
~8lbs weight, 5+ lbs weight reduction vs 304 Stainless Steel
Made to Order 4-6 weeks depending on season
If you'd like to purchase this part or have any questions, please email us and a consultant will follow up to ensure you'll get exactly what you're looking for.