Balance
The key to any good Suspension modification is Balance.  Providing improvements on both sides of the car so they work together to provide a stable car under all conditions, Braking, Acceleration, Pre Apex, Apex or Post Apex.  For example you would never just change Dampers on one side or a dramatic change in Spring rates to one side of the car with out changing the other.  So why would you upgrade just one anti roll bar?  Anti roll bars should be upgraded in pairs.
S2000 Balance Issues
The S2000 has few known balance issues including tendencies to snap oversteer and having a high front roll center cause the front of the car to roll over on itself.  Both of these balance issues worsen with typical performance modifications.
Suspension Damper upgrades are usually accompanied with a lowering of the car which worsens the Roll Center further.  Even if you prefer to raise the suspension back to OEM height with adjustable damper, you are missing out on aero and stance benefits. Roll Center Adjusters which do help, but still do not provide optimal front roll prevention.
Increasing Front Wheel and Tire Width are tremendous S2000 performance improvements.  You really cannot have too much front tire with a 50/50 Weight Distribution car and that has been proven on top Racing S2000.  The Front tires take on most of the braking and pre Apex taken on most of the Steering.  Prototype and GT Race Cars typically run the same Front Wheel and Tire Width as the rears, even with higher rear weight balance.  The Front tires are simply the defining limit of overall grip, even with rear wheel drive cars.  On the S2000, increasing Front Tire Size or Evening out the Ratio with rear, will have a noticeable increase in oversteer.
Based upon the known S2000 Balance issues and improving the cars overall performance by lowering the car and increase front end grip, the ideal anti roll bar balance for the S2000 would be a significant front anti roll bar stiffness with a mild softening of the rear anti roll bar.
Adjustable
With a general strategy of significant increase front anti roll bar and mild softening of the rear anti roll bar, the next question is by exactly how much?  Well that depends on your Suspension, Damper Valving, Spring Rates, Aero, Ride Height, Roll Center Adjusters, Wheel Width, Tire Width, Tire compounds and most importantly driver preference?  So why would you ever put a Sway Bar on that is not adjustable?  Why would you only put one on that has 2 or 3 adjustments, when you can have one that has 6?
Best in Class
This is why we have chosen to exclusively offer the Karcepts Anti Roll Bars.  Karcepts Front and Rear Anti roll bars provide the optimal Front Stiffness to Rear Softening Options.  Once we have helped you decide on a front rear bar to par with a rear bar, you can fine tune your set up based upon your car modifications and set up.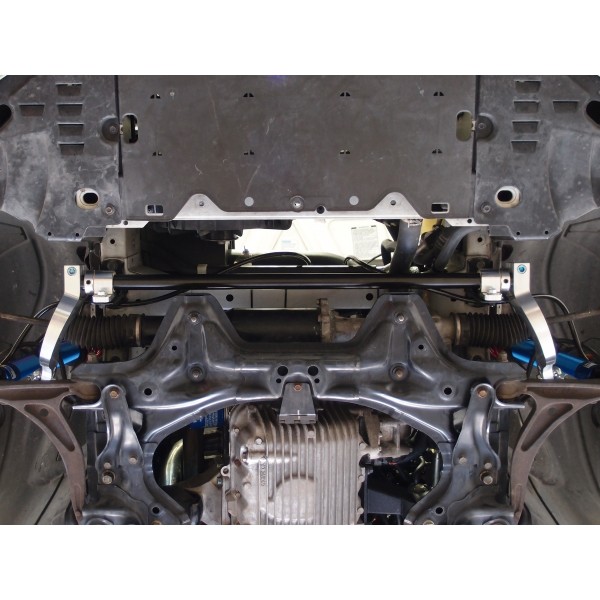 Front Bar Recommendations
Answer these Questions?
Stock Roll Center?
>1" Lower Ride Height?
9"+Wide Front Wheels?
10"+ Wide Front Wheels?
Match your amount of yeses below.
1 yes – 120-0.188" thickness
2 yes – 188"-0.250" thickness
3 yes – 250"-Solid Bar
4 yes – Solid Bar to 1.375" O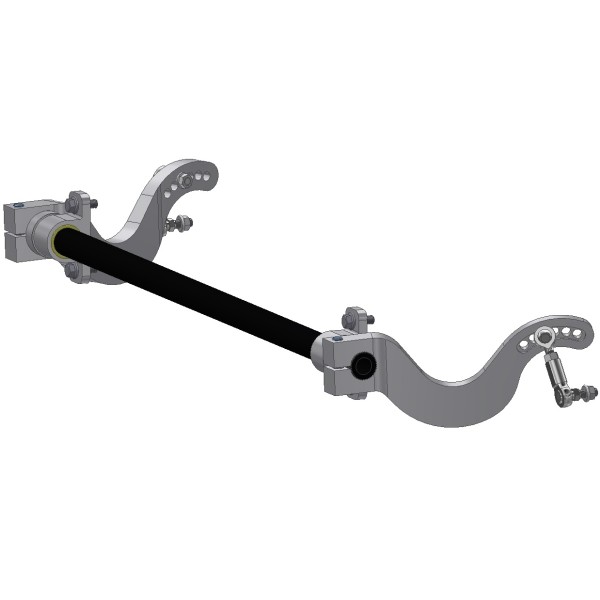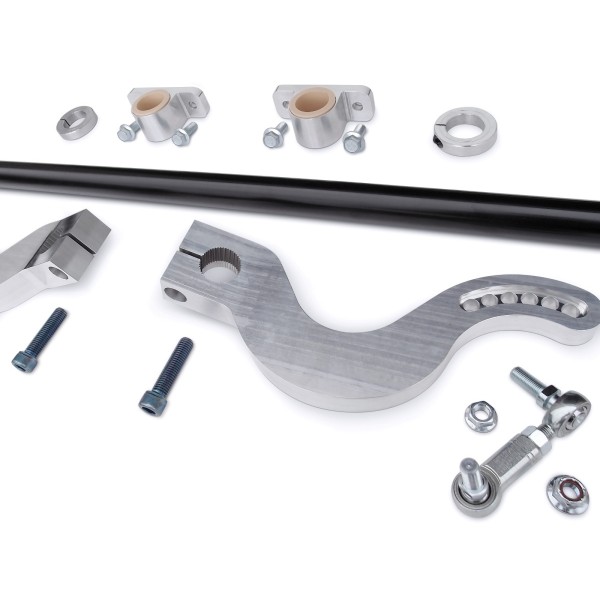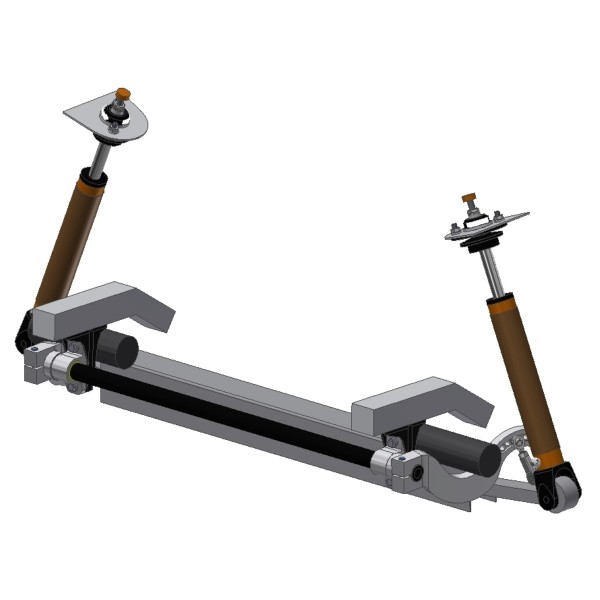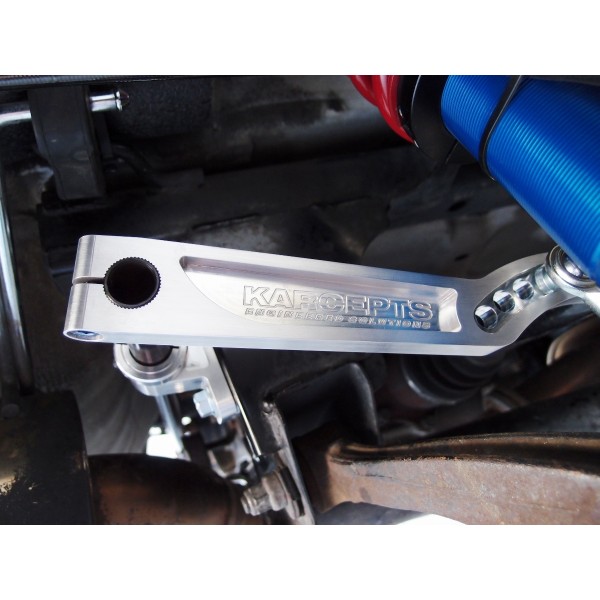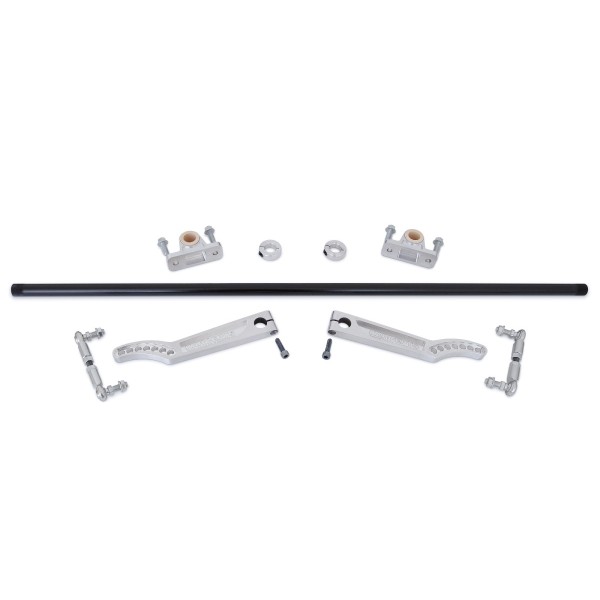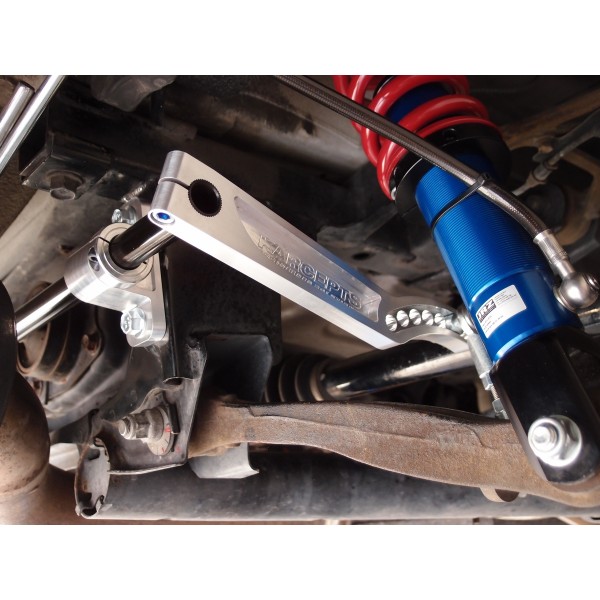 Karcepts Front Anti Roll Bar
$725
Designed specifically for track/autocross use, this sway bar kit offers zero compromises:
Billet aluminum arms optimized for strength and weight utilizing the latest FEA software
Like a blade style sway bar, roll stiffness can be adjusted quickly, and with one wrench
Unlike a blade style sway bar, adjustments are finite, with no possibility of slipping position
Rate adjustments are made with the vehicle on the ground, even at low ride heights
6 adjustment positions per sway bar arm
Light weight, zero deflection solid sway bar mounts provided for precise feel
Low friction, lubrication free, dirt resistant, solid polymer bearings require no maintenance
Heat treated and plated steel alloy PTFE lined endlinks and all hardware included
32mm (1.25″) diameter high-grade spring steel splined center section for consistent rates
Center section available in many different wall thicknesses
Stiffest setting yields 11% more angular twist on a given center section compared to any other splined style S2000 front sway bar on the market
Karcepts Rear Anti Roll Bar
$375
Billet Aluminum Arms FEA optimized for Strength and Weight
Quick Adjustment via a Single Wrench
Finite Adjustments with no possibility of slippage
Solid Bar mounts with Zero Deflection improving feel
Low Friction, Maintenance Free & dirt resistant Polymer Bearings
Heat Treated, Plated Steel & PTFE lined end links
6-(Front) to 7 (Rear) Adjustments, Adjustable while car is on Ground
1.25" (32mm) Front & 0.875" (22mm) Rear diameter Splined Steel Center bar
If you'd like to purchase this part or have any questions, please email us and a consultant will follow up to ensure you'll get exactly what you're looking for.