The Ohlins DFVs are the best suspension value on the market as they provide damping characteristics on par or better than $3000 to $4500 dampers at a fraction of the price.  However, some of our customer's need more, specifically, less "Road" and more "Track".  No one has more experience with S2000 DFVs than URGE designs and we have a variety of upgrade options.
URGE Ohlins DFV S "Sport" Upgrade
The URGE Ohlins DFVs Sport upgrade is for S2000s that need custom spring rates beyond the standard kit 10/8 Kg/mm (F/R) springs.  The standard damping can scale to 14/10 Kg/mm springs without needing a revalve.  URGE designs will recommend Sport spring rates based upon your car set and drive use case.  Our most popular spring combinations are 11/9, 12/10 and 13/10 Kg/mm (F/R).
URGE Ohlins DFV T "Track" Upgrade
 URGE had developed an T upgrade for track focused cars with high force aero, 10"+ wide wheels or R Comp tires.  We will revale the DFV High Speed to support a 50-60% increase in spring rates.  Our recommendation ranges from 14/12 up to 16/13 kg/mm providing roll resistant performance with a proven F/R balance.  Please provide details of your setup including wheel width, tire type, anti roll bars and aero mods and we will make the appropriate recommendation.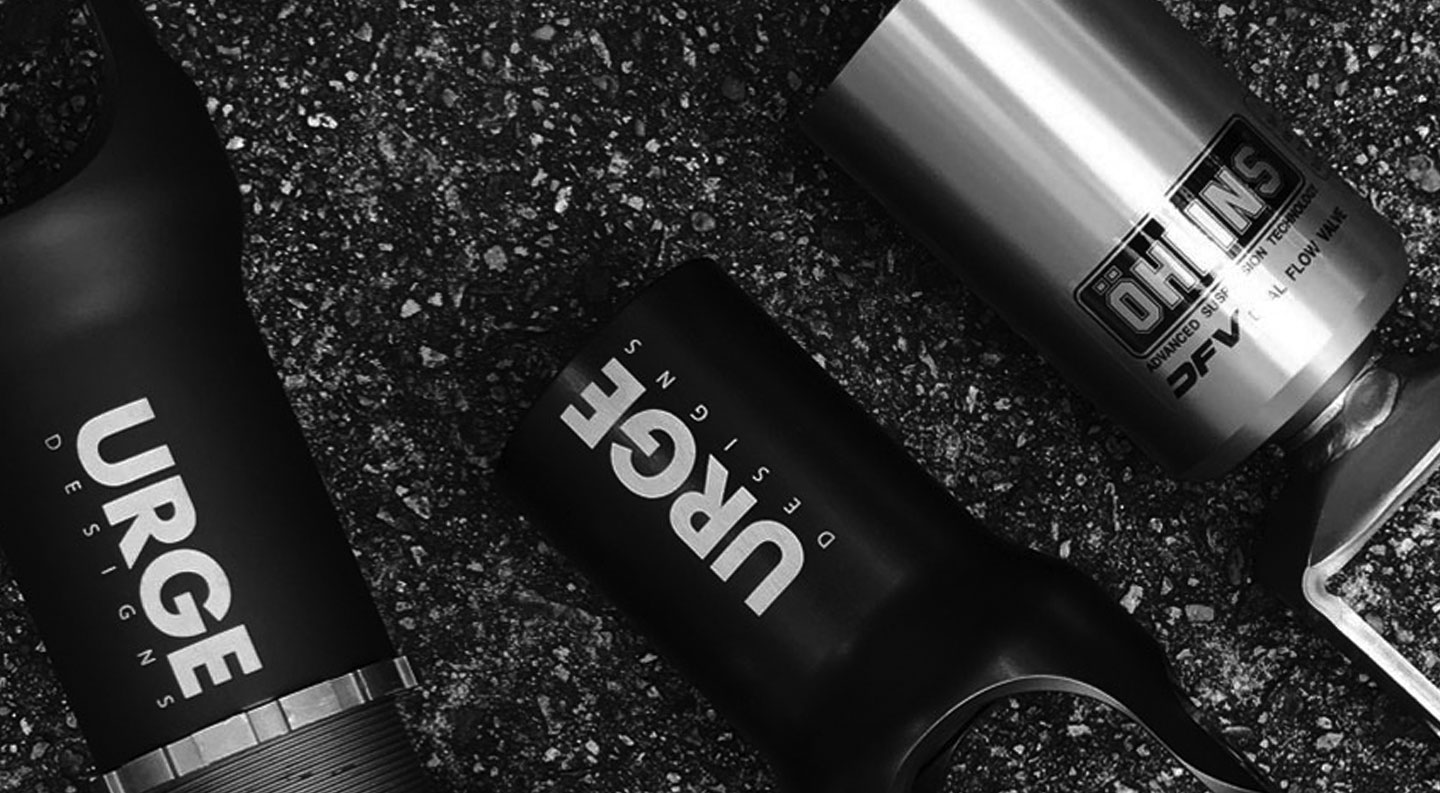 Do I need URGE S2000 DFV – S or T Upgrade?
Answer these Questions?
Do you have 9"+ front or 9.5"+ rear width wheels?
Do you run track or R comp tires?
Do you run OEM anti roll bars or does your car may roll too much?
Do you run a front splitter or rear wing?
If you answered yes to this many questions..
You are a candidate for URGE S2000 DFV-S
We Highly Recommend URGE S2000 DFV-S Upgrade
We Recommend URGE S2000 DFV-T upgrade
Your car is probably no longer registered, and you have a racing license, you need the T Upgrade 🙂
URGE S2000 DFV Lowering Rear Cups
URGE designs S2000 DFV lowering rear cups are 30mm shorter than the S2000 standard rear cups and provide 40 mm of height adjustability vs the OEM 30 mm.
Why would I need URGE Lowering Rear Cup?  The Ohlins DFVs were designed to lower your S2000 0.8" to 1".  If you plan on lower your S2000 more than 1" (25mm) for aesthetics or competition, then our lowering rear cups are a good option to give you more adjustability beyond a 1" Drop additionally, if you plan on using 11 kg/mm (671 lb/in) or stiffer rear springs, lowering rear cups maybe an option for you to lower your car beyond 3/5" or 15mm.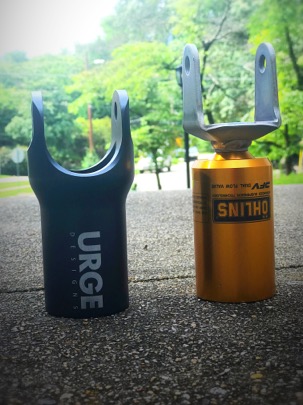 7075 aluminum
We feel 7075 sets URGE rear cups a part from others on the market.  When thinking about upgrading the current Ohlin's Rear cup which has a stainless-steel mounting fork, the stresses of having ¼ of the cars weight supported by a thin fork, and high dynamic forces as the car goes over curbs, bumps and hills, we didn't feel 6061 would provide an adequate safety factor.
Here are some key advantages in 7075 over 6061.
>70% increase in Yield Strength (Limit before metal deforms)
>70% increase in Strength to Weight Ratio
>50% increase in Shear Strength (Limit during any twisting or cross stress)
>60% increase in Fatigue Strength (Highest Stress a Material can with stand in given number of cycles)
150 vs 93 in Brinell Hardness (Potential Deformation of the contact point between fork can cross bolt)
Lower weight
Due to less overall material and full aluminum construction, The URGE S2000 DFV Lowering Rear Cups save almost 5 Oz per cup or about 2/3 of a lbs.  Not a great savings, but every little bit helps.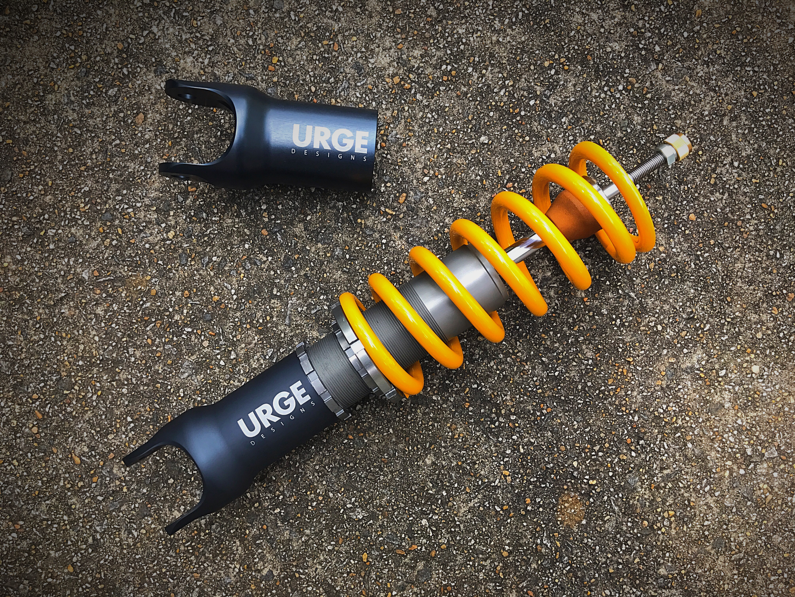 Dark Color.  The main downside to 7075 aluminum is it is harder to anodize than 6061 and after several attempts we could not get close to the Ohilns gold color.  We felt a dark grey was an attractive alternative sets the URGE S2000 Lowering Cups a part
Öhilns DFV S
$2300
Ohlins DFVs with custom 8" Swift Springs
Swift Springs have reduced weight and increased travel and linearity
URGE recommended 11/9, 12/10 or 13/10 Kg/mm
Öhilns DFV T
$2900
Ohlins DFVs with track stiff 7" Swift Springs and custom damping valving
7" Swift Springs due to less drop of significantly stiffer springs
Increase valving 50- 60% to handle track spring rates
URGE Recommend 14/12 to 16/13 kg/mm
Öhilns DFV Lowering Rear Cups
$299
Recommended when lowering car more than 1" or installing 11 kg/mm (671 lb/in) or stiffer rear Springs
Saves ~10 oz or 2/3 lb
30mm shorter rear cup with 40mm total adjustment (+10mm more adjustment)
7075 Aluminum, 40% Stronger than 6016, key for critical suspension mounts
Proprietary HS5.TW steel alloy reducing weight, improving travel and linearity
Found something you like or just shopping around?  Feel free to send us an email and a consultant will follow up to answer any questions you may have.
Check out our other products