The Ohlins DFV may be the most underrated track damper on the market.  Since Ohlins classifies the DFV as a "Road" & Track damper, many track enthusiast do not consider them as a top track damper.  Don't be fooled, even though the DFVs are more compliant that stock dampers, they have design features that keep it at the top of the track damper class including its unique namesake feature.
2015 Ohilns DFV Catalog (Ask about DFV for your Other Cars)
DFV Testimonial – see more below
It's amazing how much these have improved the ride over stock. You still feel the road and can tell it sits on stiffer springs than stock, but yet it's a smooth ride and compliant. Just like these other reviews, I was hitting bumps on the road I hate to travel and laughing because of how much better the ride quality is because of the Ohlins.
s2ki.com - Terrible01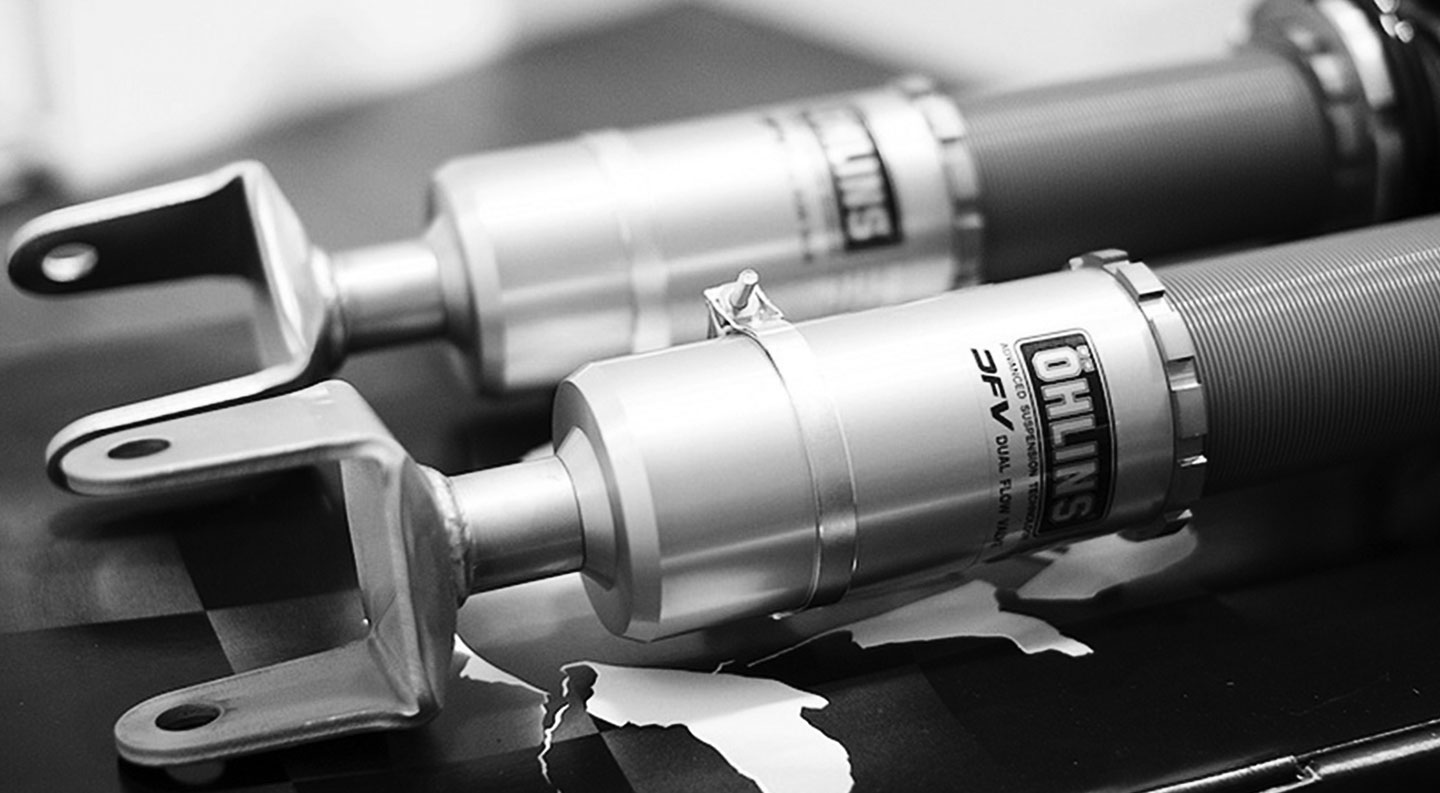 DFV – Three distinct oil paths
Typical dampers have 2 sets of paths for oil to flow through, one for low speed piston movements and another for high speed movements. Additionally, other dampers use a blow off valve when the piston is forced to move faster than its high speed valving allows. During this "Super High Speed" piston movement, the blow off valve allows the piston to quickly move through the oil however it is left to rebound slower through the high speed valving. This creates a situation where the damper compresses much faster than it can rebound causing the tire to lose contact with the road creating instability.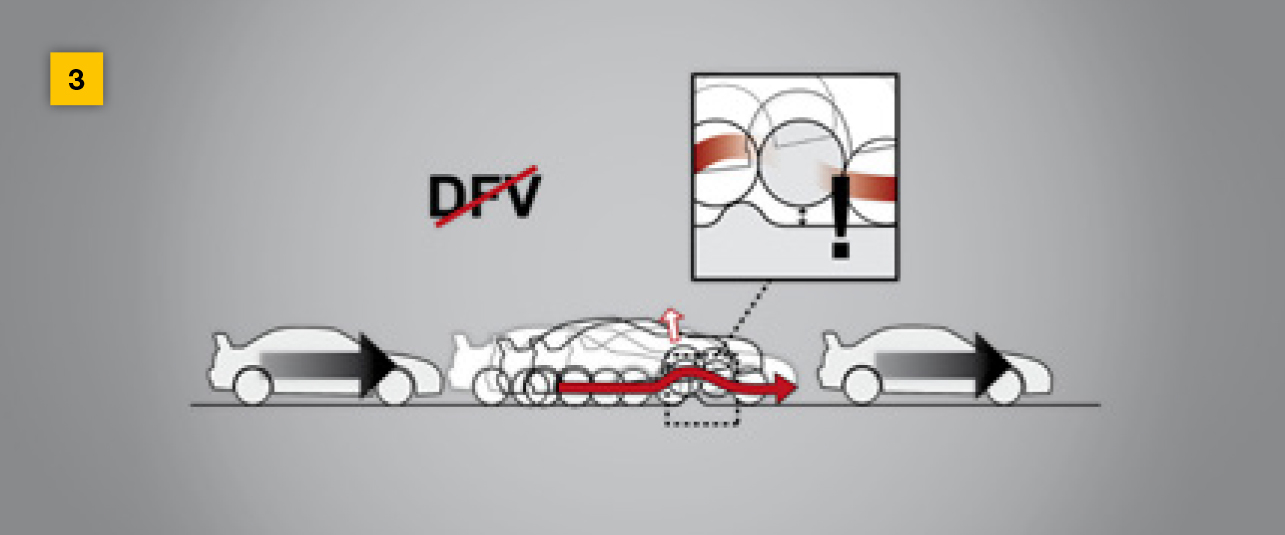 During these extreme wheel movements, DFVs allow the wheel to get back down to the ground as quickly as it went up. This is where the DFV (Dual Flow Valve) gets its name as it is essentially a 2 Way Blow off Valve. These 2 way "Super High Speed" Oil valves are noted via solid lines below.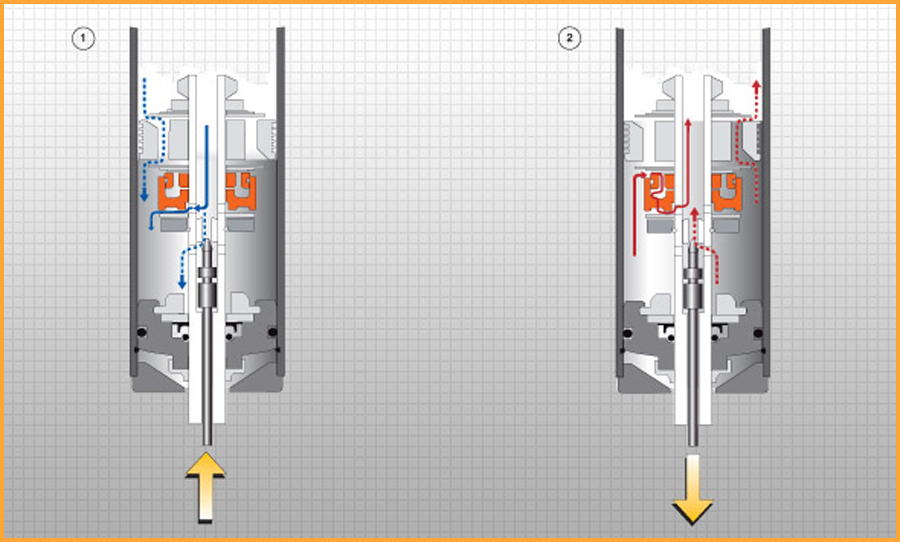 Driver Confidence
The number one modification you can make for your car is the driver and drivers drive faster when they feel confident.  The DFV's third super high-speed oil path provides the ultimate driver confidence during those extreme moments on track.  Hitting a bump, dip, curb or hole at high speed can create instability or twitch that will rattle the driver and it could take a few corners or even laps to feel confident again.  Even worse, these extreme moments can cause the driver and car to crash.  The DFV will allow the tire to move up AND down quickly and control the car in situations that many other track dampers physically cannot.  The DFV is top tier technology and design at a value price.
Temperature Sensitive Low Speed Valve
Öhlins DFVs have a temperature sensitive valve on the low speed oil path.  When the dampers are cold the needle opening contracts providing the colder, less viscous oil a less restrictive path to move through.  During hot lapping the sessions the needle opening expands to restrict the more viscous oil, creating a more consistent low speed damping across operating temperatures.  Additionally, the DFVs have 46mm pistons compared to 30-44mm pistons found in other systems.  This provides increased damping sensitivity.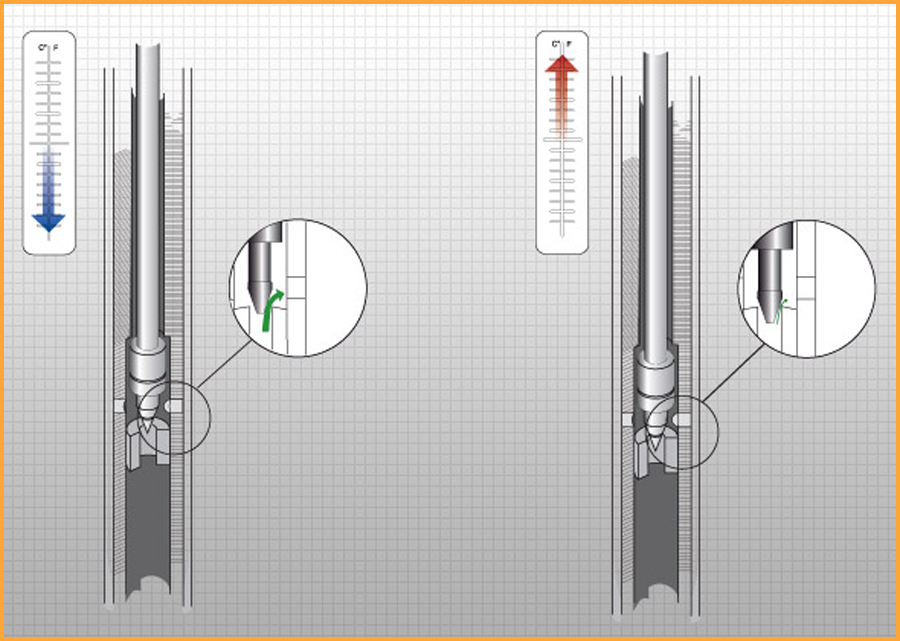 Single Adjuster, Dual Adjustments
Another reason the DFV often gets overlooked as a great track damper is the fact that it is classified as a single adjustable damper.   However, each adjustment changes BOTH compression and rebound, providing changes similar to a dual adjustable damper.   The single adjuster allows the DFV to be more affordable while maintaining Öhlins quality and revolutionary design.
16 lbs of Weight Savings
The Öhlins DFVs are designed in Sweden and machined in Japan out of aluminum.  Aluminum allows the shock to dissipate heat better and shed about 16lbs over the OEM S2000 dampers (35 vs 51lbs).   16lbs is a significant weight savings for on a sub 2900 lbs car.  More importantly the 16lbs savings is on unspring weight, further improving handling by improving wheel dynamics.
Real Experience & Reviews
We are confident in saying that the Öhlins DFV is comparable to Moton Club Sports, AST 5000s and JRZ RS Pros (all essentially the same design) at a 30-50% lower price point.  Having driven on Moton Club Sports for several years I can personally attest that the DFVs provided a higher level of confidence over high speed bumps.  They delivered more control by allowing the car to get back to full grip over larger bumps.  Also, the DFV's significantly reduced my 265mm wide front tire induced bump steer vs the Moton Club Sports.  Please read some of the reviews below to get other opinions.
DFV design details from an Öhlins Engineer
Can Öhlins DFV's make you faster?
For the first test drive, I set the shocks at 10 clicks from full stiff at the front at 12 at rear. I was blown away by how little body roll was present at a relatively soft setting. At the same time, the ride quality was firm, yet the car did not crash over bumps. The shocks do a great job of taking the "edge" off harsh impacts instead of crashing over them which the Bilsteins and stock suspension tends to do.
s2ki.com - onecleans2000
I had intended to write a review of the Ohlins but I can'tadd any more than has been said by the following:
Comments by //steve\\
WhatI will add is a review of dealing with URGE and Patrick. In short; prompt, forthright, knowledgeable, helpful,  communication, and painless shipping to Canada. Earlier this year I planned to purchase Öhlins but when it came to purchase time I learned that none were available in North America. I dealt with Patrick, he gave me an honest opinion as to when I could expect them, kept me up-to-date, and answered my emails promptly.
s2ki.com - jinglis
Öhilns DFV S2000
$2100
3rd super high speed, bi-direction oil path (Dual Flow Valve)
Temperature adjusted low speed needle valve
Matched adjustment of low speed compression and rebound
Aluminum shock body reducing weight vs OEM by 16 lbs total and improving heat dissipation
Found something you like or just shopping around?  Feel free to send us an email and a consultant will follow up to answer any questions you may have.
Check out our other products