The Ohlins DFV may be the most underrated track damper on the market.  Since Ohlins classifies the DFV as a "Road" & Track damper, many track enthusiast do not consider them as a top track damper.  Don't be fooled, even though the DFVs are more compliant that stock dampers, they have design features that keep it at the top of the track damper class including its unique namesake feature.
2015 Ohilns DFV Catalog (Ask about DFV for your Other Cars)
DFV Testimonial – see more below
It's amazing how much these have improved the ride over stock. You still feel the road and can tell it sits on stiffer springs than stock, but yet it's a smooth ride and compliant. Just like these other reviews, I was hitting bumps on the road I hate to travel and laughing because of how much better the ride quality is because of the Ohlins.
s2ki.com - Terrible01
DFV 3 distinct oil paths
Typical dampers have 2 sets of paths for oil to flow through, one for low speed piston movements and another for high speed movements. Additionally, other dampers use a blow off valve when the piston is forced to move faster than its high speed valving allows. During this "Super High Speed" piston movement, the blow off valve allows the piston to quickly move through the oil however it is left to rebound slower through the high speed valving. This creates a situation where the damper compresses much faster than it can rebound causing the tire to lose contact with the road creating instability.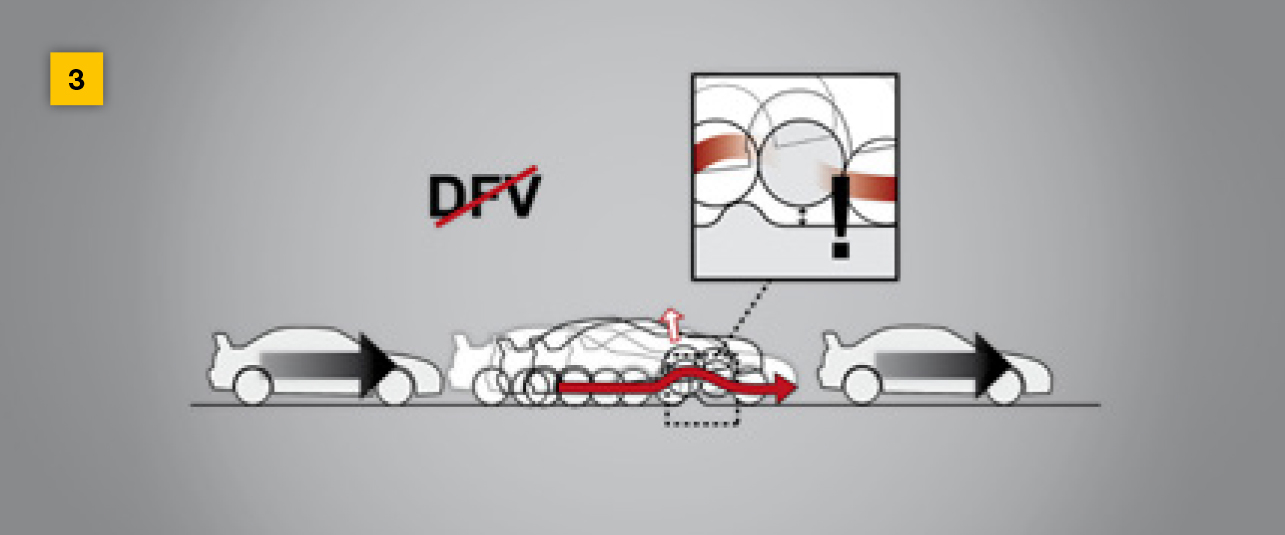 During these extreme wheel movements, DFVs allow the wheel to get back down to the ground as quickly as it went up. This is where the DFV (Dual Flow Valve) gets its name as it is essentially a 2 Way Blow off Valve. These 2 way "Super High Speed" Oil valves are noted via solid lines below.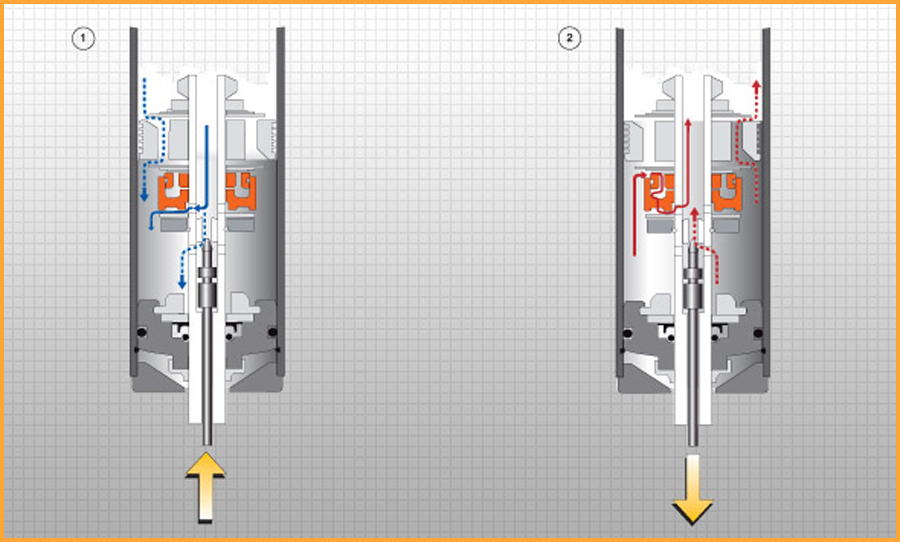 Driver Confidence
The number one modification you can make for your car is the Driver and Drivers drive faster when they feel confident. The DFV 3rd Super High speed Oil path provides the ultimate driver confidence during those extreme moments on track. Hitting a bump, dip, curb or hole at high speed can create instability or twitch that will rattle the driver and it could take a few corners or even laps to feel confident again. Even worse, these extreme moments can cause the driver and car to crash. The DFV will allow the tire to move up AND down quickly and control the car in situations that many other track dampers physically can not. The DFV is top tier technology and design at a value price.
Temperature Sensitive Bleeder Valve
Ohlins DFVs have a temperature sensitive bleeder valve on the low speed oil path.  When the dampers are cold the needle opening contracts providing the colder, less viscous oil a less restrictive path to move through.  During hot lapping the sessions the needle opening expands to restrict the more viscous oil, creating a more consistent low speed damping across operating temperatures.  Additionally, the DFVs have 46mm pistons compared to 30-44mm pistons found in other systems.  This provides increased damping sensitivity across more precise piston movements.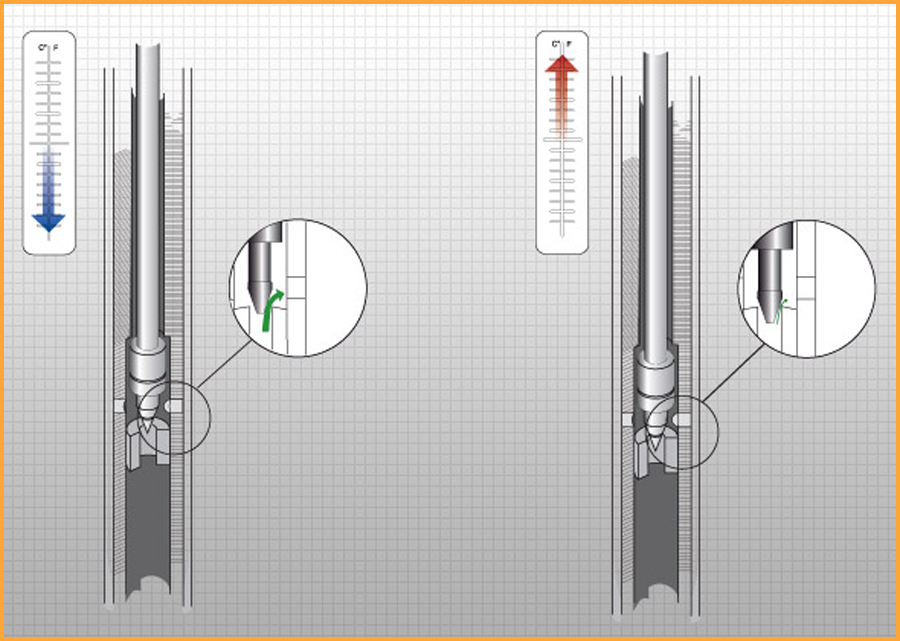 Single Adjuster, Dual Adjustments
Another reason the DFV often gets overlooked as a great track damper is the fact that it is classified as a single adjustable damper.   However, each adjustment changes BOTH compression and rebound, providing changes similar to a dual adjustable damper.   The single adjuster allows the DFV to be more affordable while maintaining Ohlins quality and revolutionary design.
16 lbs of Weight Savings
The Ohlins DFVs are designed in Sweden and Machined in Japan out of Aluminum.  Aluminum allows the shock to dissipate heat better throughout and shed about 16lbs over the OEM dampers.  The OEM S2000 dampers weigh in at about 51lbs across all four corners while the DFVs come in at about 35lbs.   16lbs is a significant weight savings for a part upgrade on a car that weighs as little as the S2000.  More importantly it is 16lbs of unspring weight, further improving handling by improving wheel/tire dynamics.

Real Experience & Reviews
We are confident in saying that the Ohlins DFV is comparable to Moton Club Sports, AST 5000s and JRZ RS Pros (all essentially the same design) at a 20-40% lower price point.  Having driven on Moton Club Sports for several years I can personally attest that the DFVs provided a higher level of confidence over high speed bumps.  They delivered more control by allowing the car to get back to full grip over larger bumps.  Also, the DFV's significantly reduced my 265mm wide front tire induced bump steer vs the Moton Club Sports.  Please read some of the reviews below to get other opinions.
DFV design details from an Öhlins Engineer
Can Öhlins DFV's make you faster?
For the first test drive, I set the shocks at 10 clicks from full stiff at the front at 12 at rear. I was blown away by how little body roll was present at a relatively soft setting. At the same time, the ride quality was firm, yet the car did not crash over bumps. The shocks do a great job of taking the "edge" off harsh impacts instead of crashing over them which the Bilsteins and stock suspension tends to do.
s2ki.com - onecleans2000
I had intended to write a review of the Ohlins but I can'tadd any more than has been said by the following:
Comments by //steve\\
WhatI will add is a review of dealing with URGE and Patrick. In short; prompt, forthright, knowledgeable, helpful,  communication, and painless shipping to Canada. Earlier this year I planned to purchase Öhlins but when it came to purchase time I learned that none were available in North America. I dealt with Patrick, he gave me an honest opinion as to when I could expect them, kept me up-to-date, and answered my emails promptly.
s2ki.com - jinglis
URGE S2000 DFV Upgrade Options
The Ohlins DFVs are the best Suspension value on the Market as they provide damping characteristics on par or better than $3000 to $4500 dampers at a fraction of the price.  However, some of our customer need more. Specifically, you maybe Less "Road" and more "Track".  No one has more experience with S2000 DFVs than URGE designs and we have a variety of Affordable Upgrade Options.
URGE Ohlins DFV S Upgrade
URGE is about meeting customer needs and although the DFVS are a great blend of Road and Track characteristics, some customers simply need more track.  Many S2000 owners have medium level Aero, 9-10" wheels or 255mm tires and need slightly stiffer Springs to reduce body roll.  The S2000 Ohlins DFVs include 10/8 (F/R) Kg/mm and the valving can accept 30% higher Spring rates.
For a cost effective upgrade we can offer 12 or 13 Kg/mm Metric Swift Springs that match the Ohlins 65 mm ID Spring perches and you can move the Ohlins supplied 10 Kg/mm springs from the front to the rear providing a 13/10 or 12/10 Kg/mm combination.
We do feel there is a benefit to matching Swift Springs as Swift Springs are lighter weight, have more travel, improved response and which provide more overall grip.  See details here.
URGE Ohlins DFV R Upgrade
URGE had developed an "R" upgrade for Track Focused cars with High Level Areo, 10"+ wide wheels or R Comp tires.  We will increase the DFV High Speed valving by 50-60% and include set of Swift 65mm ID Springs that perfectly fit the Ohlins Spring Perches.  We recommend a 16/13 or 16/14 Kg/mm combo providing the Ohlins proven F/R Spring Ratio or we can provide any other Customer Specified Spring ratio.  This upgrade is list priced at $996 and we have Racer Discounts Available.
Do I need URGE S2000 DFV S or R Upgrade?
Answer these Questions?
Do you run OEM Sway Bars? You car may roll too much
Do you have 9"+ Front or 9.5" Rear Width Wheels?
Do you run R Comp Tires?
Do you run a Front Splitter or Rear Wing?
If you answered yes to this many questions..
You are a candidate for URGE S2000 DFV-S Upgrade, Do you feel your S2000 Rolls too much?
We Highly Recommend URGE S2000 DFV-S Upgrade
We Recommend URGE S2000 DFV-R Upgrade, If you answered yes to the last 3, you car is probably no longer registered and you have a racing license, you need the R Upgrade.
URGE S2000 DFV Lowering Rear Cups
Why would I need URGE Lowering Rear Cup?  The Ohlins DFVs were designed to lower your S2000 0.8" to 1".  If you plan on lower your S2000 more than 1" (25mm) for Aesthetics or Competition, then the Rear Cups are a good option to give you more adjustability beyond a 1" Drop. If you plan or lowering your car 1.5" (38mm) or more then the Lowering Cups are a must.  Additionally, if you plan on using 12Kg/mm (671 lb/in) or stiffer rear Springs, your car will have 15mm (2/3rd inch) or less droop.  So having a 30mm Shorter Rear Lowering Cup will provide more height adjustment range to account for the less droop.  Additionally the URGE Rear Lower Cups provide 40mm of height adjustment vs the Ohlins 30mm.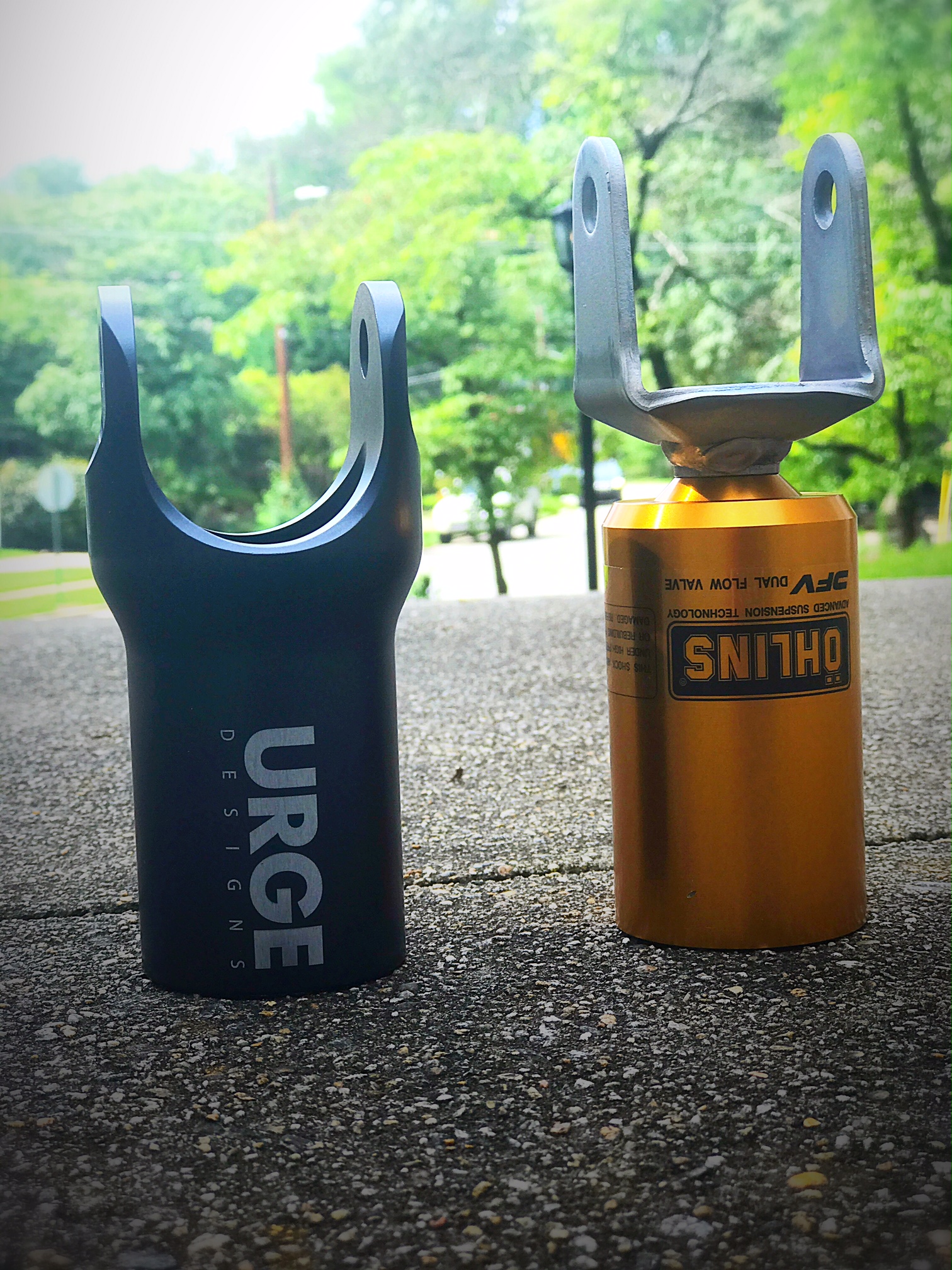 7075 Aluminum.  We feel 7075 sets our Rear Cups a part from others on the market.  Typically 6061 Aluminum is use for most aftermarket parts including the hats in our Front and Rear 2 piece Rotors and Billet ITBs.  6061 material properties do the job for the stresses that these parts receive.
When thinking about upgrading the current Öhlins Rear cup which has a stainless-steel mounting fork, the stresses of having ¼ of the cars weight supported by a thin fork, and potentially much more weight as the car goes over curbs, bumps and hills, we didn't feel 6061 would provide an adequate safety factor.  When studying various aluminum alloys, 7075 is the next step up while still being afford able.
Here are some key advantages in 7075 over 6061.
>70% increase in Yield Strength (Limit before metal deforms)
>70% increase in Strength to Weight Ratio
>50% increase in Shear Strength (Limit during any twisting or cross stress)
>60% increase in Fatigue Strength (Highest Stress a Material can with stand in given number of cycles)
150 vs 93 in Brinell Hardness (Potential Deformation of the contact point between fork can cross bolt)
Lower weight.  Due to less overall material and full aluminum construction, The URGE S2000 DFV Lowering Rear Cups save almost 5 Oz per cup or about 2/3 of a lbs.  Not a great savings, but every little bit helps.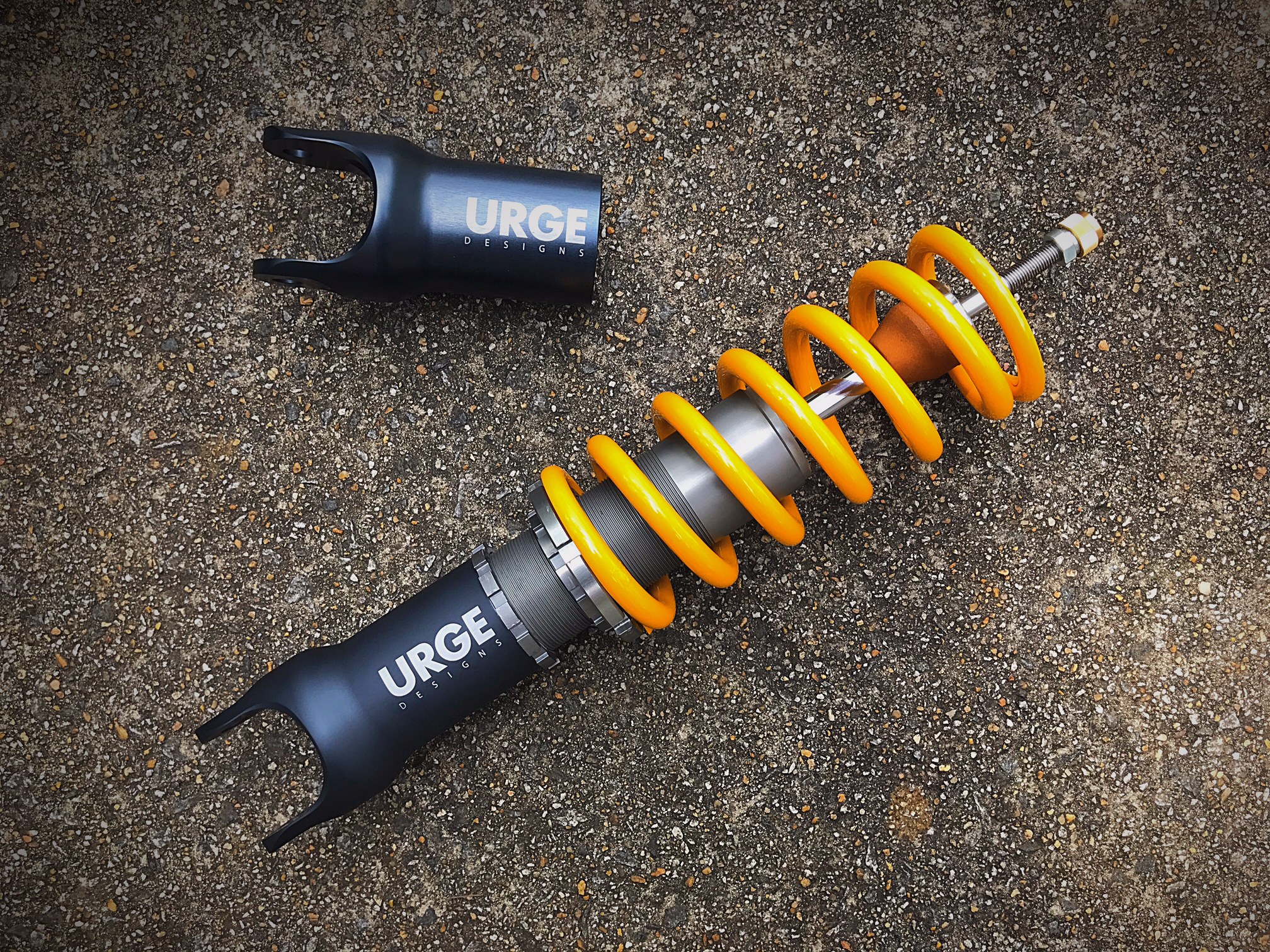 Dark Color.  The main downside to 7075 Aluminum is it is harder to anodize than 6061 and after several attempts we could not get close to the Öhilns Gold Color.  We felt a Dark Grey was an attractive alternative sets the URGE S2000 Lowering Cups a part.
Swift Springs
URGE has been a big believer in Swift Springs since we opened and have always recommended upgrading to Swift Springs when the opportunity presents itself.  Please take a few minutes to understand why.
HS5.TW Proprietary Material
Its all in the material.  Typical Automotive Suspension Springs are made out of a Chrome Silicone based Steel and although there is nothing wrong with this Material, Swift saw this as an opportunity to improve and differentiate themselves.  HS5.TW was designed to improve Strength to Weight Ratio of versus common Chrome Silone Steel while maintaining high elasticity providing simple undisputed benefits.
Lighter weight; Less material is needed to provide a Static Rating and Swift Springs tend to be ~xx% Lighter
Increased Travel; as less material is needed, less coils are needed which provide more travel before bind
Improved Linear Rate; more overall spring travel means more travel before bind when spring rates change
Less Spring Settle; Along with the improved material characteristics, the above the properties mean Swift Springs incur less overall Stress as they stay within their optimal travel range improving fatigue life and consistency over the springs lifetime
Increased Dynamic Response & Improved Feel
Less Weight, Increased Travel and Improved Linear Rate are all quantifiable attributes, but how can a Spring improve Feel?  An optimal Suspension and Spring would absorb bumps while maintaining optimal tire contact.  Springs are designed to support the weight of the car and return the suspension to middle of its desired range.  As measured in Pounds per Inch or Kilograms per mm, Springs create a resistive force based upon compression.   During each bump or after a dip or hill, the Spring is attempting to lift the corner of the car based upon reactive force.  There is a fine balance of lift vs absorption during the compression stroke and that is where dynamic response comes into play.
Again, Springs are rated on a slow static compression of pressure returned per force applied.  Ironically, except for long consistent turns, your springs will never experience that kind of compression.  The only thing a Standard Spring Rating provides is roll resistance in consistence conditions.
Spring Dynamics are much more important but there is no industry rating to compare.  Based upon measurable characteristics mentioned above (Lighter Weight and Increased travel) as well as having a higher Material Natural Frequency, Swift Springs react to movements quicker.  Swift Springs provide less lift during faster movements and absorb the road characteristics and tire movement improving tire contact, grip and reducing tire wear.
Swift Value
In general springs cost 1/10 to 1/5 of the actual suspension itself and thinking a "Spring is a Spring" is leaving performance on the table for something that is relatively low cost compared to tires and suspension.  Together, Tires and Suspension are the most important performance parts you can buy as a 10% increase in grip improves lap times more than 100% increase in power.  So why not speed 50% more on the least expensive part of your suspension for the quantifiable benefits alone?  That should justify the potential to experience the Dynamic and Feel benefits that Swift Springs Provide.
Öhilns DFV S2000
$2100
3rd Super High Speed Bi-Direction Oil Path (Dual Flow Valve)
Temperature Managed Low Speed Needle Valve
Single Adjustable Low Speed Compression & Rebound
Aluminum Shock Body reduces weight
URGE DFV "S" Upgrade
+$178 (Front Set Only) to $356 (Complete Set)
65mm ID Metric Swift Spring Upgrades matching the Ohlins DFV ID
Front Swift 12 Kg/mm, move Ohlins (671 lb/in) Front 100 N/mm (572 lb/in) to rear +$178
Front & Rear Swifts 13/11 Kg/mm (726/615 lb/in) or 12/10 Kg/mm (671/559 lb/in) +$358
Swift Stronger Alloy Reducing number of Coils, Reducing Weight & Increases Travel
Industry Best Spring Rate Linearity
URGE Ohlins DFV "R" Upgrade
+$996 (inquire about Racer discounts)
Increase Valving 50- 60% to handle Stiffer Racing Springs ($600)
Lightweight Metric Swift Springs Matching Ohlins Metric Spring Perches ($396)
URGE Recommend 16/14 Kg/mm or 16/13 Kg/mm
Customer Spec Valving & Spring Rates available
URGE S2000 DFV Lowering Rear Cups
$299
Recommended when lowering car more than 1" or installing 12Kg/mm (671 lb/in) or Stiffer rear Springs
Saves ~10 oz or 2/3 lb
30mm shorter rear cup with 40mm total adjustment (+10mm more adjustment)
7075 Aluminum, 40% Stronger than 6061, key for critical Suspension Mounts
Swift Springs
$178 per Pair or $356 per Set
60, 65, 70mm ID at 4-9" lengths
4–34 Kg/mm depending on length and ID
Swift Stronger Alloy Reducing number of Coils, Reducing Weight & Increases Travel
Industry Best Spring Rate Linearity
If you'd like to purchase this part or have any questions, please email us and a consultant will follow up to ensure you'll get exactly what you're looking for.