The PSI Raceline Öhlins TTX36 S2000 kit is the ultimate S2000 track damper kit that still provides suitable street manners.
Our URGE spec includes the following
TTX36 inline front damper
TTX36 Piggyback rear damper for longer wheel travel
Pillowball Top Hats ($370)
Customer Spec Swift Springs ($350); 13/11 Kg/mm or 12/10 Kg/mm recommended

Öhlins TTX design
The TT in TTX stands for Twin Tube damper.  Öhlins innovative design creates an oil circuit between each tube and an oil reservoir via a series of compression and rebound channels.  Using a solid main piston, oil is forced through each channel based up on compression and rebound strokes.  Each channel has its own bleed valve for slow speed control and shim valve for high speed control.  Since each stroke has its own oil path, compression and rebound adjustments are completely isolated from each other making it simpler to achieve a desired set up. Other damper's compression and rebound adjustments affect one other, which does not allow compression and rebound to be set individually.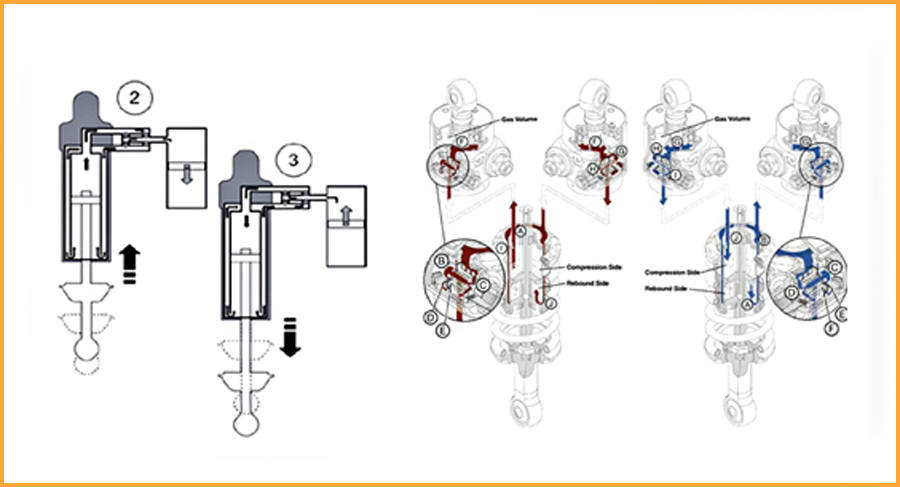 On the other side of the TTX oil reservoir is a gas chamber.  Since each twin tube is individually bridged to the oil reservoir, each tube distributes pressure to both sides of the piston.  This creates a positive pressure build up on both compression and rebound strokes while providing a relieving pressure to the other side of the piston reducing cavitation.  This provides more consistent and direct damping, reducing hysteresis, improving short stroke and high force performance.
The balanced twin tube pressure can be demonstrated on a TTX damper without a spring mounted.  You can move the rod in both directions and feel damping force based upon the force applied.  When there is no force applied to the rod, it remains in place at any position within the stroke.  On a monotube damper, the internal gas pressure on the compression side of the piston is going to keep the damper at full extension.
High Gas Pressure Myth
Gas pressure in monotube dampers is only applied to the compression side of the piston.  This gas pressure has to be high enough so that during compression the low-pressure side of the system remains under enough pressure to limit cavitation.  Correspondingly, there is a spiking gas pressure on the compression side of the piston restricting piston movement and thus compression damping.  The spiking gas pressure creates an abrupt force back through the piston rod that gets absorbed via tire deformation reducing grip.  During the rebound stroke the potential energy of this gas spring is unloading, forcing the piston back through the oil and causing the damper to have to dampen itself, taking away from its primary function of damping the car.  Monotube manufacturers present the high gas pressure as a positive as it reduces the spring rate that is needed for the coil spring.  That may be true, but the gas spring is non-linear, creating inconsistent dynamics within the suspension system.  High gas pressure is simply a solution to a symptom and not the problem, which simply creates another symptom.
Due to the Öhlins patented oil circuit, the TTXs uses a lower gas pressure of around 40 PSI vs 120-200 PSI, which significantly reduces wear within the shock due to less seal drag, improving reliability and longevity.
20+ lbs. Unsprung Weight savings
Including 6" springs and billet aluminum mounting hardware, the inline TTX36 and the piggyback TTX weigh about 7.5 lbs each for a total weight of about 30 lbs.  This is more than 20 lbs. less than the 51 lbs. total weight of the OEM dampers.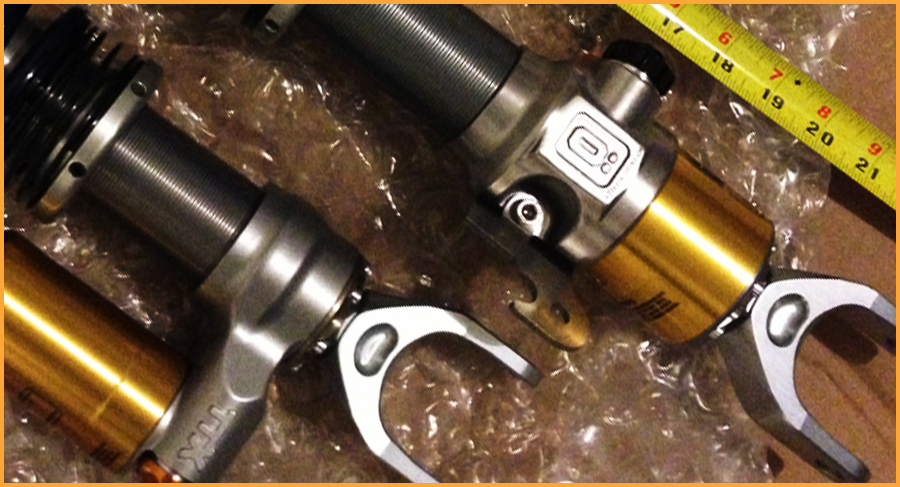 Swift Spring Options & Valving customization
URGE designs has chosen to include Swift Springs with our PSI TTX S2000 kits. After extensive reading, countless racer reviews and personal testing confirmation we feel Swift Springs offer an advantage over other springs. Swift uses a custom alloy that is lighter and stronger than they typical chrome silicon steel other manufactures use. This allows Swift to use less coils reducing weight and allowing more travel. Also, Swift springs measure to have a more linear spring rate.   The increased travel and linear build up tend to make the Swift Springs feel softer as Swift Springs are more consistent over a larger range of compression. The wider range of Spring constancy equates to better management of the tire and contact patch providing better mechanical grip.
You can choose any spring rate you want for the PSI Raceline S2000 kit, we will ensure the damping range is suited for your goals and spring choice. We recommend ~6:5 ratio for non-staggered tire set up. This ratio improves brake balance and provides a little squat for rear drive grip. We recommend 12 Kg/mm Front & 10 Kg/mm rear provides a good balance of grip and reduced body roll. Using Springs that are too stiff will tend to left the car up more than the tire reducing grip and creating a skating or twitchy feel over bumps.
Öhlins TTX uses a shim valve system that offers infinite customization to create high-speed damping dynamics that suit any need.  If you need further high speed damping control, 2 way adjustable TTXs can be rebuilt and upgraded to 3 or 4 way to provide adjustable high speed damping.  This creates a scalable solution allowing you to upgrade based on your budget and goals.
Swift Helper Springs
We offer an optional set of Swift Helper Springs to insure the main spring maintains alignment with the TTX while the car is lifted on a Jack or goes light over a hill. The TTX travel is longer than the main spring and during longer wheel travel the main spring can be caught on the bump stop or the top perch inner lip. This may not be a big deal in the garage or in the pits, but can cause the instability if it happens over a hill at speed. The TTX is all about car control and we want to eliminate any possibility of car instability. The Swift Helper springs fully compress under minor load and thus do not alter overall spring rate.
Championship pedigree & S2000 Reviews:
Over the last 5+ years, TTX shocks have won the majority of National and World Motorcycle championships.  If you can control a 2 wheel vehicle, then a 4 wheel vehicle is easy.  TTX are slowing accumulating 4 wheel world championships as they have won the overall Lemans championship the last 13 years, several Touring Car Championships and 2012 completed there first year in Formula 1 with a race winning team.  Please click on the Ohlins Hall of Fame & PSI Raceline TTX S2000 Reviews.
PSI Raceline Ohlins TTX URGE spec - 2 way
$5575
TTX36 inline front damper
TTX36 Piggyback rear damper for longer wheel travel
Aluminum Pillowball Top Hats ($370)
Swift Main Springs ($358); 13/11 Kg/mm or 12/10 Kg/mm recommended
2 Way adjustable; Low Speed Compression & Rebound
3 way upgrade $1500 – Adds High Speed Compression
4 way upgrade $3000 – Adds High Speed Compression & Rebound
Swift Helper Springs & Couplers
$285
Highly recommended, keeps main springs mounted
T3 spec
 $5095
Assembled with stock mounts & springs
If you'd like to purchase this part or have any questions, please email us and a consultant will follow up to ensure you'll get exactly what you're looking for.
Overall, I am very happy with the products I purchased from Patrick @ Urge Designs. He has been very helpful and very responsive to e-mails. I'm am certainly glad we have people like Patrick that continue to develop products for our S2000's.
s2ki.com F22CR
From the start I knew I should be looking at suspension to be more successful on the track. When I finally took the plunge late in 2014, the result was not surprising. It was trans-formative. Although I haven't had much track time to fine tune, with the help of Patrick (and some dumb luck?) the initial results have exceeded my expectations.
s2ki.com eddie8181