Typical theory states that larger throttles will flow better making more power at higher RPM's, while smaller throttles will generally provide more low and mid-range torque. Something that is overlooked is how far away the throttles are from the port. If two sets of ITBs have similar runner volume and taper, a small throttle can be placed near the port and larger throttle can be placed near the velocity stack and their airflow and velocity will be the similar. Thus throttle size tends to get overemphasized especially when larger throttles tend to be placed much further away from the port.

Port Entry Optimization
A more important consideration is runner port entry design. The idea is to maximize airflow with the smallest runner port area possible, producing optimal air velocity and maximizing your torque across the broadest RPM range. One area for improvement we looked at was port entry angle. Based upon runner test flow data, changing the port entry angle a few degrees improved flow >10 CFM. Since AT throttles are machined and not cast, we can make iterative changes as needed.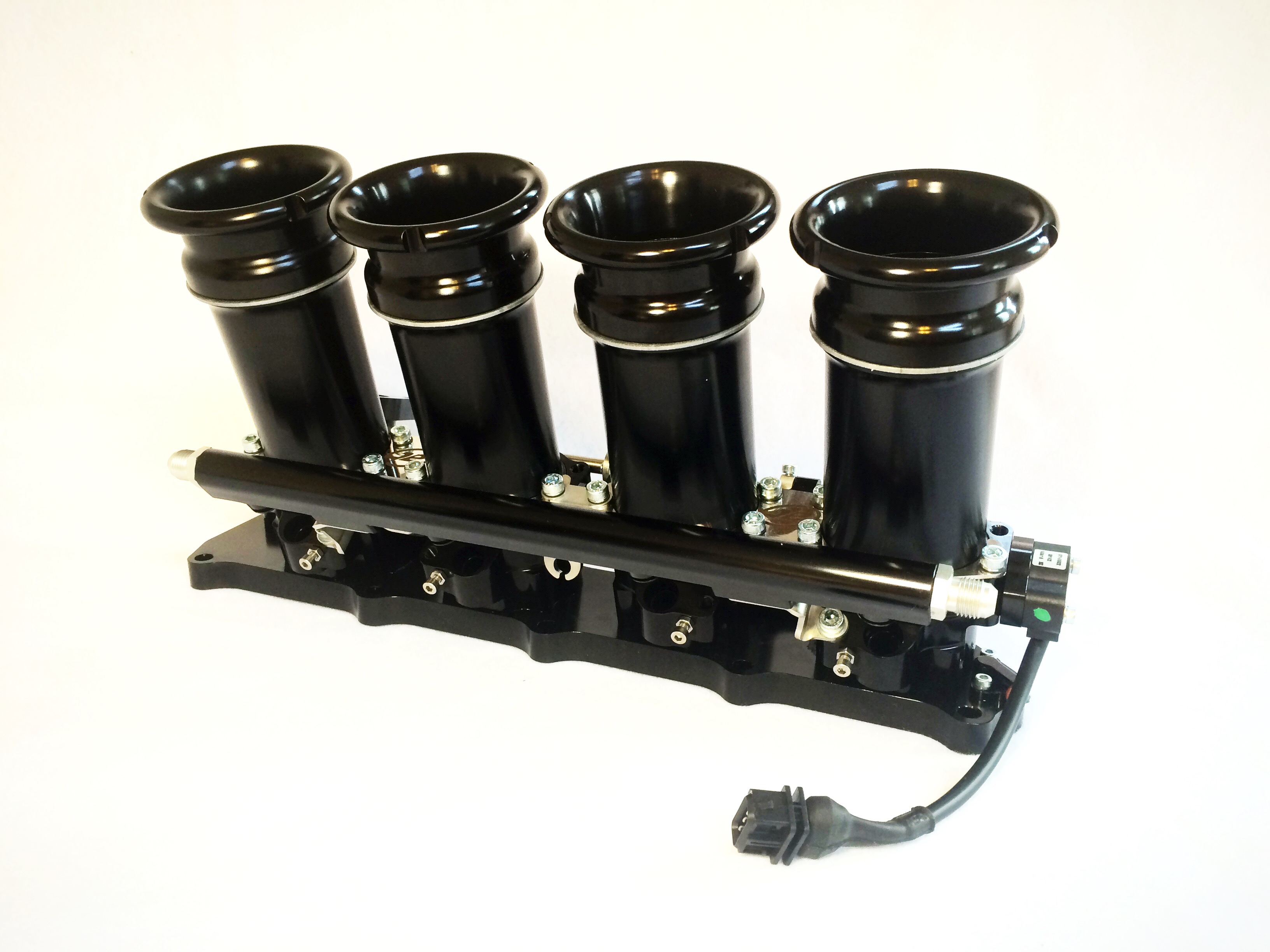 Shaftless Throttle
Lastly, another opportunity of improvement beyond throttle size and placement is the shape of the throttle itself. Even at wide-open throttle, the bulk of the throttle blade and shaft can reduce airflow by 5-10%. AT Power is an innovative induction company out of England that created a new throttle design that is "shaftless". Essentially, their throttles are a thin tapered blade that is CNC'd as a single piece with the rotating shaft. With this innovative feature there is nothing needed to support the shaft inside the runner port. AT Power's testing proved their design reduces airflow by only 0.5% (vs 5-10% in traditional setups), essentially providing flow rates of barrel throttles without the cost or high maintenance.
Shaftless vs Typical Butterfly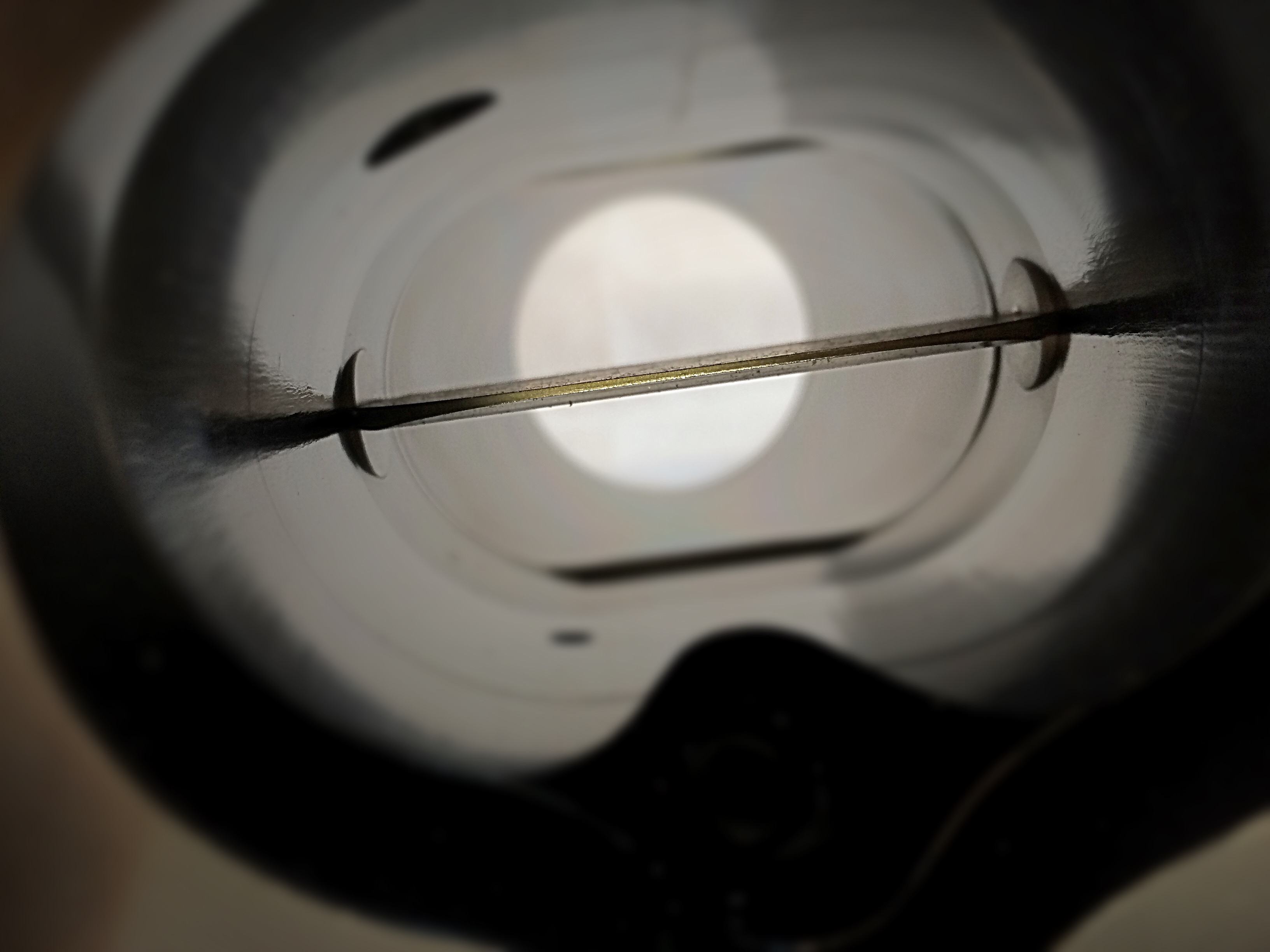 We applied a custom port entry angle with AT Power runner design & 52mm shaft less throttles to come up with an optimal set of ITBs that maximizes air velocity.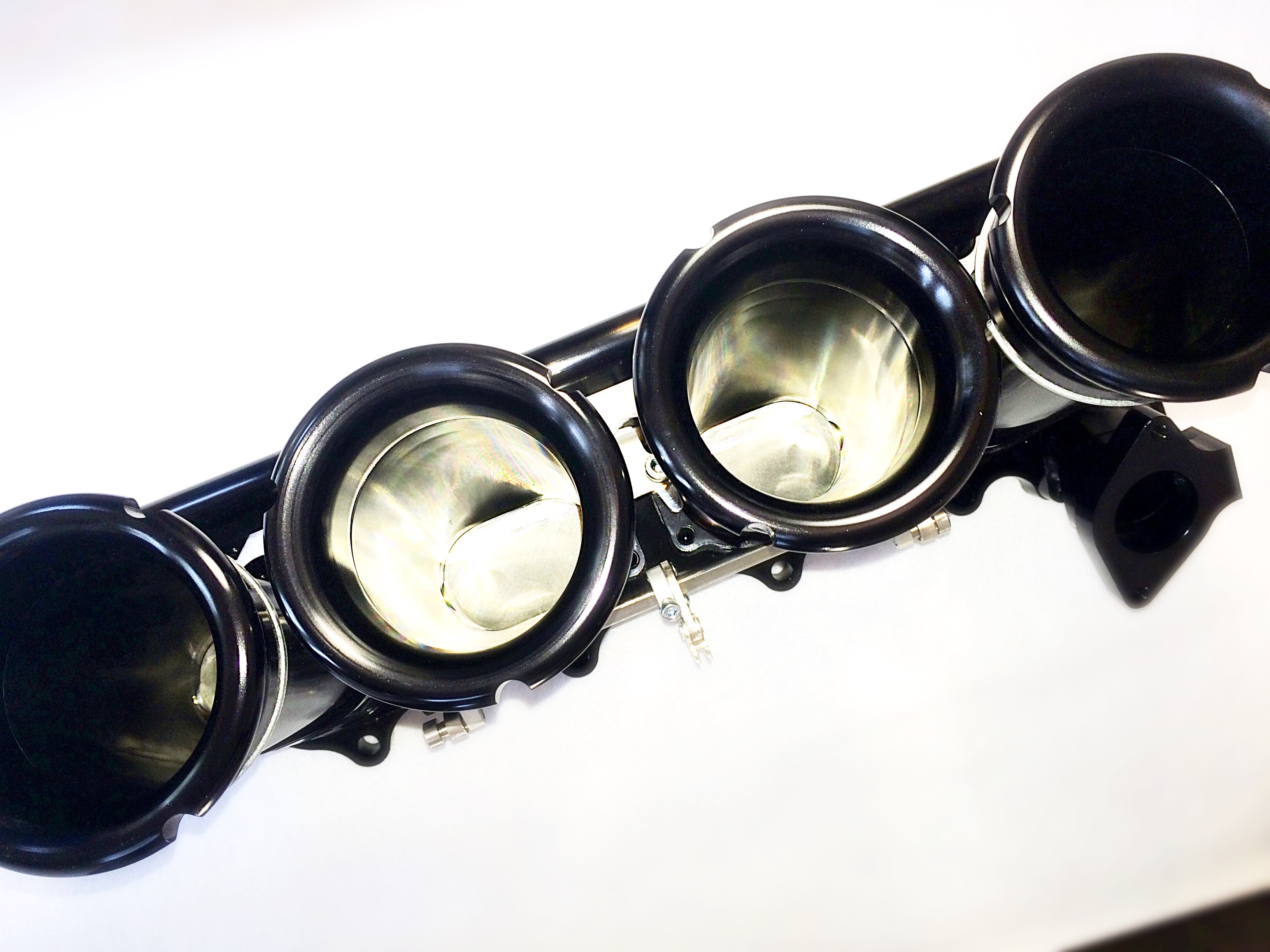 Based upon our results, we have chosen to offer 52mm ITBs. The 52mm throttles have similar air velocity to smaller 45-48mm ITB's, providing good low and midrange torque and similar air flow to larger 60mm throttles providing tope end power. With innovative R&D we feel we have made the optimal ITB's for stock as well as fully built road race engines.
CNC Bespoke ITBs - 52mm
$2200
52mm oval CNC Custom ITBs
Fuel rail with AN-6 fittings (specify 11 or 14mm tops)
1/8" NPT taps for vacuum fittings on the throttles
Wabash TPS
Specify Target Peak Power 8000, 8500 or 9000 RPM
Will fit Stock Injectors 06-09 (Up to 275HP) or RDX Injectors (up to 300 HP)
Actuator DBW Control Upgrade
 $TBD for DBW 06-09 MY (in beta testing)
Comes with 1 hour of Gernby Troubleshooting & Gernby Base Map
Options
Custom colors other than black or sliver $200
Vacuum Block V2.0 $395
ID 725 injectors $480 (300+ HP) add S2000 Plug & Play Adapters +$60
ITG foam plenum foam filter kit

$240

, Included backing plate mount ($55) & can of filter oil ($35)
Endyn Breather Kit $225
Snake 2nd Harmonic Runner System (coming soon)
Found something you like or just shopping around?  Feel free to send us an email and a consultant will follow up to answer any questions you may have.